YOU READ WELL. Miyata has landed his first ever leading role!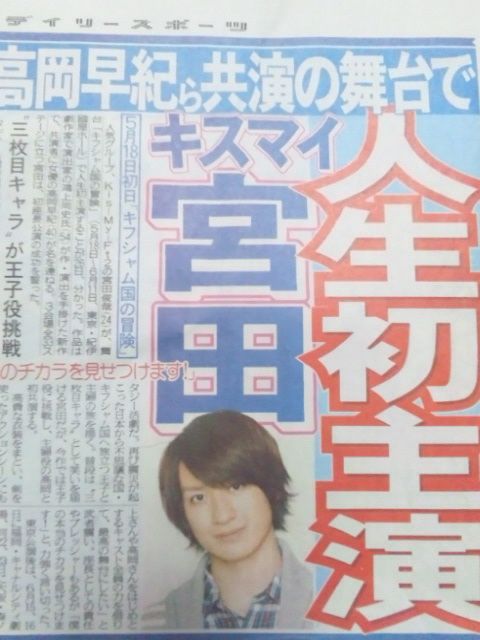 He will lead "Kifushamu-koku no bouken" (The adventures of Kifushamu? Kifsiam? land), which is described as an "adventure fantasy play", from May 18th to June 11th in Tokyo's Kinokuniya Hall in Shinjuku.

His character is the prince (let me repeat: PRINCE) of the fantasy land of Kifushamu, who embarks on a journey in the realm of the dead in order to meet his father the King again. It will reportedly include action scenes such as sword fighting. The play has been written and will be directed by Kokami Shoji, and Takaoka Saki will act as the housewife who travels with the prince.
His comment was "Usually I'm not the princely type (in my group), but I want this to be a wonderful play. I'll show you my real strength!"

(source: sanspo)

I'M SO PROUD T___T I'll update this post with more news if anything comes out ♥

EDIT according to Daily Sports, other than the Tokyo run, the show will be staged in two other venues (June 15-16 at Canal City Theater in Fukuoka and June 22-23 at Pilotis Hall in Osaka) for a total of 33 shows in the three venues.