I thought I could share this. Music Station has this poll up right now, "A Break Through Artist in 2011?"

So, everyone go and vote for Kisumai! 8D Seeing they were on the second place in that poll M-Sute had last fall, it'd be awesome to see them high this time as well.

Vote here!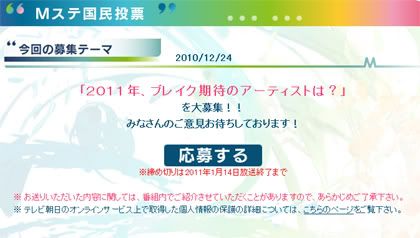 Just click the blue button there and it'll take you to the voting page.
Then, fill out your nickname(ニックネーム), age(年代), gender(性別), from which region in Japan you're from(都道府県) [or pretend to be from? :D] and finally, your answer(お答え).
//...And I forgot to mention that press the second button to actually send the vote.

The voting time ends on Jan 14th.

Let's give the boys many many votes, okay~?