I've translated today's Kisulog entry, in which Miyacchi tells us how rough summer is for people who sweat a lot, and about his movie date with Tama~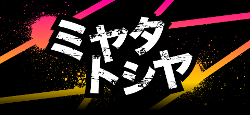 Kisulog: Miyata Toshiya - #8 07/18

---

This is a bit old but I've done a writeup of the first of the two Kisumai Radio episodes that had Miyacchi and Tama on their own as hosts. I was waiting to have the second one up, too, but I've been busier than I thought I'd be so here's the first one in the meantime. IT'S BEEN GLORIOUS.

6/27 Kisumai Radio notes

--

Also, Miyacchi is going to appear on the variety show "Gachi gase" on Friday 20th, on NTV, 19:00! No other Kisumai members are appearing (unless we count Hamaguchi senpai XD). It's a fairly popular show with regular guests such as AKB48 and Kamiji Yusuke so I'm really happy for him.

--

Lastly, I really really REALLY want to sub Miyata's Hamakisu challenge but I know I won't have time to do it from scratch. If someone's willing to do the timings and then do the hardsub and all the fancy technical stuff please comment or DM me. I absolutely want to do it but I can really only provide the translation ._.